Speaking of the choice of a web hosting provider, it's important not only that it offers decent hosting options, but also that they are generally convenient and user-friendly, meeting your more specific needs. One such need is the payment options they provide. Given that if you're reading this article, you are most likely interested in options with crypto payment available. Since they are offered not by each and every hosting provider, it's important to inform yourself about the available options – and it's what we are going to do today.
Crypto-VPS is a young yet reliable hosting provider offering a variety of hosting options, a broad set of features, high-quality network infrastructure, lots of locations to choose from, and all for affordable prices. Their features:
KVM virtualization: Virtualization is an essential aspect that you are to consider when looking for a VPS service. Not all VPS are equal in quality of resources distribution and independence of other users, and the main factor that contributes to it is namely the virtualization solution. KVM is a robust virtualization option that offers the maximum quality obtainable on VPS.
Dedicated resources: Crypto VPS has all resources dedicated due to the KVM virtualization which means maximum stability for the development of your projects.
Choose your OS: KVM virtualization allows you to install the OS of your choice, to organize your project according to your most specific preferences. Besides that, on Crypto-VPS you'll be able to choose from a variety of trusted operating systems, including such Linux distributions as Debian, CentOS, Ubuntu, AlmaLinux, Rocky Linux, and Alpine Linux as well as Windows Server and Free BSD.
Root access: KVM virtualization among other things will give you root access to customize the most subtle aspects of your VPS.
A variety of locations: The location is an important aspect of choosing a VPS with an eye on user experience and SEO optimization. The less the distance between your visitor and your server, the lower the latency. With low latency your website will load and respond faster, making sure that the user will remain fully satisfied with your website. The search engines also see low latency as a beneficial factor, ranking such websites higher. With this in mind, you should always look for a location that is as close as possible to your target audience. On Crypto-VPS there is a broad selection of 13 locations in different parts of the globe, so you will be very likely to find the one most suitable for your target audience.
Their basic VPS plan starts at $4.49 offering 2 Xeon Cores, 512 MB RAM, 10 GB SSD, and unlimited bandwidth. You can order your VPS through CoinGate and CoinPayments crypto gateways.
Hostinger

Hostinger is a well-known hosting service launched in 2004 and offering a range of hosting services that may seem not as rich for features as some more expensive hosters, but offers just what is necessary for small to intermediate businesses.
Their offers include shared web hosting, VPS hosting as well as WordPress hosting, a website builder, and a variety of additional hosting options for some more specific usage cases, including "Titan email hosting" and "Hosting for professionals".
Their basic VPS plan starts at $8.99 and includes 1 GB RAM, 20 GB SSD Disk space, and 1 TB Bandwidth. It is offered with a 30-day money-back guarantee. By choosing annual payment, you can get it only for $3.99. Besides that, each plan comes with such features as
1 snapshot: Secure your server with a full copy of it stored offsite.
Weekly backups: Don't worry about the integrity of data on your website with guaranteed backups every week.
Dedicated IP: Gett best SEO rankings with dedicated IP.
Full root access: Customize anything that can possibly be customized about your server.
100 Mb/s network: Get a guaranteed decent network speed to provide your visitors with a fast website
IPV4 & IPv6 support: Enjoy the features of new generation IPv6 for your website.
24/7 Support: Get guaranteed professional assistance at any time.
There is also a broad selection of control panels and other services that need a license, among them LiteSpeed, cPanel, Plesk, DirectAdmin, and Webuzo.
As for the availability of crypto payment, you can pay through CoinGate which supports a ton of modern cryptocurrencies.
Hawkhost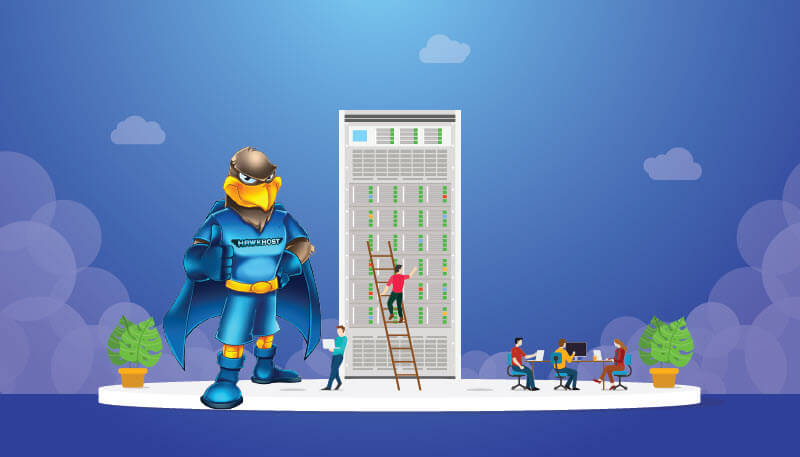 Hawkhost is another affordable hosting provider offering shared hosting, semi-dedicated cloud hosting, and reseller cloud web hosting. Their features:
24/7/365 Support: To make sure that any technical issue doesn't set your website out of operation, Hawkhost will provide you with a professional team that is always ready to hedge you.
Money-back guarantee: Within 30 upon purchasing their service, you'll always be able to cancel it and get a refund.
Robust control panel: Get a powerful tool to manger your server how you see fit.
Free migration: Once you realize that your current plan doesn't satisfy your needs anymore, migrate your server to a more powerful solution for free.
Cloudflare optimization: Cloudflare is a popular CDN service that can make your website's operation smoother while protecting it from cyber threats. By opting for Hawkhost's hosting, you can be sure that your server will work perfectly with Cloudflare.
Their basic shared hosting can be obtained for as little as $2.99/mo.Howk Host accepts payments in Bitcoin, Ethereum, Bitcoin Cash, and XRP.
Cherry Servers

Cherry Servers is a cloud hosting provider offering a broad variety of cloud hosting options. They offer virtual cloud servers, instant dedicated cloud servers, customer-dedicated cloud servers, and public cloud platforms.
Their features and benefits:
A high degree of customizability: Cloud servers are highly customizable, so you can opt for any amount of resources when choosing your website configuration.
Instant provisioning: Cloud servers are delivered instantly, so you can start developing your project in a matter of minutes.
Flexible billing: Cloud servers are charged on-demand, with the possibility to pay even on an hourly basis.
24/7 Technical Support: Professional assistance at any time via any channel.
Personal Account Manager: You'll have a person that is assigned to your account, so they will know well what your requirements are to help you in the most efficient manner.
SLA Uptime 99,97%: Get a guarantee that your server will be up pretty much all the time.
The cheapest option can be obtained for 9.00 EUR/mo featuring Shared Resources, 1 vCores, 1GB RAM, 20GB SSD, 1Gbps, and 1TB/mo free traffic.
They accept 16 popular cryptocurrencies via Coingate.
NameSilo

NameSilo is primarily a domain registrar that also offers to host shared services for common users. Although they offer shared hosting, they guarantee quality hardware as well as a variety of features included. What's especially good about them is that you won't have to worry about looking for a domain name registrar since you'll be able to get both things from the same provider.
Their "Starter" plan costs $2.99/Month offering 20GB Storage, 1 website, and:
cPanel: Administer your website with a powerful and easy-to-use control panel trusted by thousands of users.
Easy WordPress installation: Your server will be fully optimized for WordPress CMS, so you won't have to spend much time configuring it.
Website builder: Use a user-friendly website builder to start your web presence immediately.
Email: Get a powerful email solution that, in turn, offers a broad selection of powerful features as well.
Namesilo supports Bitcoin payments
FAQ about Web Hosting With Bitcoin
How to buy a virtual private server with crypto?
If you want to buy a server with crypto, you should first find a provider that accepts this kind of payment (some great of them have been listed in the article above). After it choose the plan to suit your needs and proceed to the checkout where you'll find crypto among the available options. Keep in mind that you previously have to create a crypto wallet, purchase some crypto assets and transfer them into your wallet.
Can my website be configured to accept Bitcoin as a form of payment?
You can configure your website to accept Bitcoin as a payment form. To do it, first, find a crypto payment gate to suit your preferences. After it, find out how to connect them to your website, by studying the information they provide on their website or contacting them.
Can I securely purchase web hosting using Bitcoin or other cryptocurrencies?
Yes, as long as you use cryptocurrency in the right way, crypto payments are completely secure.
Recent Posts
Want to know more about paying for VPS with crypto? Read on our blog